Speech and Language 1
Welcome to Speech and Language Class 1. At present we have eight boys and one girl. We all come from different schools but have made really super relationships in such a short time.
Mrs Marlow is our Speech Therapist who is in school two days per week.
Mrs Pentland is our Class Teacher of Class 1, and Mrs Atkinson is our Classroom Assistant.
We enjoy our classes Monday to Thursday at Ebrington and we return to our Mainstream Schools every Friday.
Our timetable is very varied. Language activities are paramount to our day, followed with Literacy and Numeracy and then the study of the World Around Us. We enjoy Music with the skills of Mrs O Gorman and Fundamental skills through our Programme of Primary Movements. We love all the integration opportunities with our new friends in Ebrington Primary School.
Mrs Marlow and Mrs Pentland plan experiences that are rich in language development, and Mrs Marlow works with us for one to one therapy support.
Our homework is detailed in our Home/School diary and it is set for the week every Monday to be returned every Thursday. We have a special Therapy Homework book that Mrs Marlow details our therapy exercises in every Monday and Wednesday.
Latest Gallery
Latest News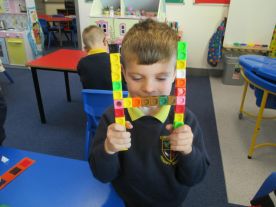 19th Sep 2019
Ebrington Primary School, Clooney Campus, 67B Limavady Road, L'Derry, BT47 6LR | Telephone: 02871343864 | E-mail: bguthrie493@c2kni.net