Speech and Language 1
Friday 16th October- DLD Awareness Day.
What a fabulous day we had today raising awareness for DLD. We enjoyed preparing for the celebrations- our art work highlighting 'DLD- See Me'. We dressed in purple and yellow to mark the day.
Then we had great fun learning our Welcome song to sing to the Mayor who came to support our special day. He clapped our performance and he kindly brought us some treats.
Of course our party finished the celebrations- cup cakes with cream and decorations. Yummy. What a way to finish for Half Term.
Stay safe and see everyone back on Monday 2nd November.
Mrs Pentland
Wed 7th October
Parents, please find suggested learning for Thursday 8th and Friday 9th October under the Home learning tab below. Our isolation finishes this Friday 9th October. I look forward to seeing everyone on Monday 12th October safe and well.
Mrs Pentland
Monday 5th October
Parents, please find suggested learning for Tuesday 6th and Wednesday 7th October under the Home learning tab below.
Keep well and stay safe.
Mrs Pentland
Friday 2nd October.
Please find suggested learning for Friday 2nd October and Monday 5th October under Home Learning Tab.
Keep safe and stay well.
Mrs Pentland
Tuesday 1st September
A very warm welcome back to our Speech and Language Class. The adults are very keen to see our 8 boys and one girl and start with our learning topic- 'On, over and under the sea- rhyming pirates (and princess) life for me'.
We have lots of practical learning tasks planned for indoor and outdoor and we can't wait to get started. It is great that the children will also be staying with us on a Friday now, as part of our initial 'restart' plans. This will help to keep our 'bubbles' safe and we will review this at Half term.
Thank you for attending our Introductory Play dates on Thursday and thank you for acknowledging the video sent via our parents platform- where a talented little boy modelled how to come to our classroom following the one way system and how to get organised in the morning.
Please see attached the letter issued by Mr Guthrie regarding the decisions made following long discussions with many services. You should also receive a letter from Language and Communication.
Latest Gallery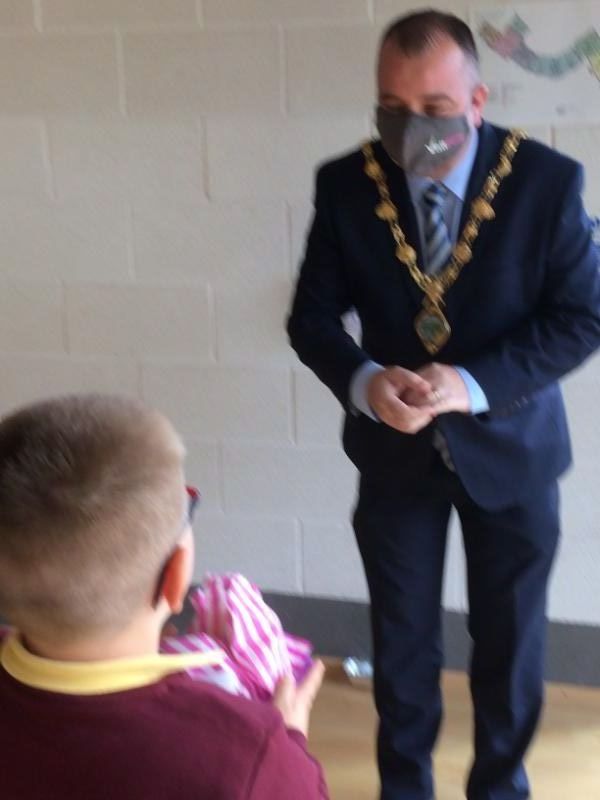 Ebrington Primary School, Clooney Campus, 67B Limavady Road, L'Derry, BT47 6LR | Telephone: 02871343864 | E-mail: bguthrie493@c2kni.net