Y3A
Hello and welcome to 3A,
In our class we have 31 children: 21 boys and 10 girls. Our teachers are Mrs Galligan and Mrs. McKernan. Mrs Galligan teaches us every Monday, Tuesday and Wednesday and Mrs McKernan teaches us every Thursday and Friday. We are lucky to share the support of Ms Stewart between both Year 3 classes this year.
We have a very busy timetable in year 3:
Monday: We have infant assembly, we take down our weekly homework and we have PATHS.
Tuesday: We have P.E. and Activity Based Learning
Wednesday: We have I.C.T./ Library time and handwriting.
Thursday: We have creative writing and practical number
Friday: We have our weekly spelling test and Golden Time in the afternoon.
Literacy and Numeracy are taught daily and World Around Us is taught on Thursdays and Fridays.
We get spellings every Monday, Tuesday and Wednesday and we revise these on Thursday nights.
Our topics are as follows: Term 1 is 'Hey hey look at me'/ Term 2 'Yum Yuck' and Term 3 'Its a bugs life'.
Latest Gallery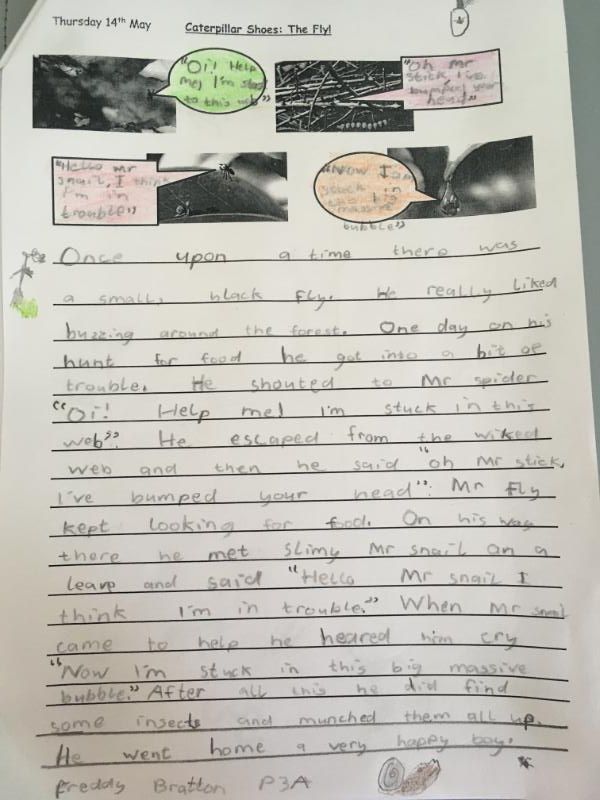 Freddy's version
Tom's fly speech bubbles
Tom's version
Curtis' version
Diego's version
Ebrington Primary School, Clooney Campus, 67B Limavady Road, L'Derry, BT47 6LR | Telephone: 02871343864 | E-mail: bguthrie493@c2kni.net