Y4B
Welcome to P4B!
In our class we have 17 boys and 9 girls. As always, we have a very busy year ahead of us! This year we will be covering lots of different aspects of the Northern Ireland Curriculum.
Our Topics include:
Weather Watchers
Through the eyes of a child
Long, Long Ago
We have I.C.T and Play on a Thursday afternoon.
Our PE days are every Monday and Friday. Written homework's are set every Monday and Tuesday. Spellings activities every evening in preparation for our Friday test. Reading is individually set for each group.
We have an open door policy in Ebrington, so feel free to pop in with any questions or queries.
Please keep an eye on our class page to keep updated on important information throughout the year.
R. Stone
Latest Gallery
Latest Y4B News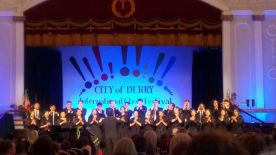 15th Nov 2018
Ebrington's Junior Choir were delighted to perform at the recent Londonderry Choral...
15th Nov 2018
The children in P1 have had another fun-filled term of 'Learning to Rhyme' through...

Ebrington Primary School, Clooney Campus, 67B Limavady Road, L'Derry, BT47 6LR | Telephone: 02871343864 | E-mail: bguthrie493@c2kni.net