Y7A
Welcome to P7A. We have had a great start to the year, all 28 pupils fully engaged in their learning and having fun.
Latest Gallery
Latest Y7A News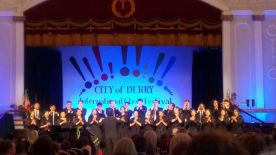 15th Nov 2018
Ebrington's Junior Choir were delighted to perform at the recent Londonderry Choral...
15th Nov 2018
The children in P1 have had another fun-filled term of 'Learning to Rhyme' through...

Ebrington Primary School, Clooney Campus, 67B Limavady Road, L'Derry, BT47 6LR | Telephone: 02871343864 | E-mail: bguthrie493@c2kni.net