Y7A
Welcome to P7A's class page!
There are currently 32 pupils in our class and Mrs Lindsay is our teacher. After a busy term 1 we are back and ready to rock 2020!
Mr Guthrie will be holding interviews will all Primary 7 parents regarding the transfer procedure within the next few weeks, please keep an eye out for these letters in school bags. Mrs Lindsay will be holding a small number of parent interviews on a 'needs only' basis on Monday 3rd February.
This term sees us continuing with our Rugby and Hockey sessions every Monday until half term. We also start swimming on Thursday 27th January for 16 weeks. As usual we will have our weekly PE session on a Tuesday afternoon. Please come to school prepared and remember your kits on these days!
Our thematic topic this term is 'Survival. We will spend sometime looking at islands, rainforests and volcanoes to name a few. Our literacy starts of looking at biographies and will be closely linked to our novels 'Kensuke's Kingdom' . Numeracy starts of looking at percentages, fractions and decimals and carries us into some investigative numeracy towards the end of term 2.
Don't forget:
Homeworks are set on Monday's (for Monday and Tuesday) and Wednesday's (for Wednesday and Thursday).
Our PE days are Monday's (rugby and hockey), Tuesday's (PE in hall) and Thursday's (swimming at Foyle Arena). Please ensure your child brings a change of clothes (including appropriate footwear) with them on Monday's for Rugby/hockey. Don't forget gum shields!
Please check back regularly to see what we get up to in term 2!
Mrs Lindsay and P7A!
Latest Gallery
Latest Y7A News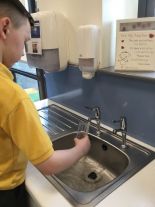 23rd Jan 2020
Yesterday 7A carried out an experiment to find out which substances dissolve in hot...
13th Nov 2019
Well done to all our accelerated reading prize winners. We were delighted to...

Ebrington Primary School, Clooney Campus, 67B Limavady Road, L'Derry, BT47 6LR | Telephone: 02871343864 | E-mail: bguthrie493@c2kni.net