Festival of Christmas Trees
11th Jan 2016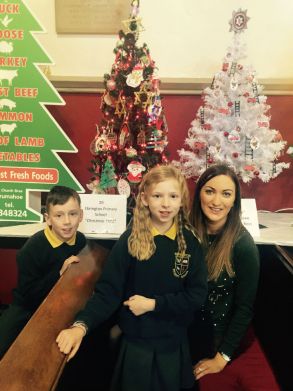 Ebrington took part in All Saints Clooney Church's Festival of Christmas Trees. Local individuals, organisation groups, businesses and schools in the local community contributed to this festive event. Over 50 christmas trees decorated the inside and outside of the church, it was a beautiful sight to see and lovely to be part of.
When Mr Dougherty asked Year 5B to lead the decorating of Ebrington's christmas tree we wanted to include all the classes in the school. So, we asked every class to contribute some decorations. When all the decorations were put on the tree it represented our school perfectly.
Thank you everyone for your hard work.
Mrs McCrea and 5B boys and girls.
Ebrington Primary School, Clooney Campus, 67B Limavady Road, L'Derry, BT47 6LR | Telephone: 02871343864 | E-mail: bguthrie493@c2kni.net